First day of school. Prepare your kid for the new school year
2023-08-21

The arrival of September is a stressful time for many school-aged children. This is when they have to already return to the school desks, and there are many important issues related to the preparations for this moment. It is essential to provide the child with all the necessary equipment, so a few weeks before September 1, school shopping begins. It is also important to remember that after a summer vacation full of fun and relaxation, it is essential to bias the child properly towards the return to school, so that the process goes smoothly and does not involve a lot of stress. We can even make the child look forward with excitement to once again meet with classmates and teachers.
Plan to start school year 2023/2024
Preparing a child for starting school begins with a well-planned process. It is worth to create a schedule with your child in which you mark all the most important events in the coming school year. The first date, of course, will be the day when we return to school, and then you can mark off school events, holidays or extra activities. If we keep fill in the calendar during the school year as well, it will help avoid the stress of unexpected events.meet with classmates and teachers.
What else is worth doing before the first day of school?
Starting a new school year can involve reminding your child how important this stage of his life is. It is also a great opportunity to talk to your child about his goals and expectations. If we help them define realistic goals appropriate to their age, they will provide motivation to learn and develop skills. Starting school can cause stress and anxiety, this is why it is so important to be always ready to listen to children's problems and provide appropriate support. It is worth creating a friendly and safe atmosphere at home to discuss concerns and feelings about returning to school.
As you can see, parents play a very important role in this process, and adults need to prepare themselves for it too. It is essential, for example, to cooperate with teachers - regular communication is crucial for monitoring the child's progress and early recognition of possible problems. It is worth asking about the results or educational needs, which will enable the parent to be actively involved in the child's education.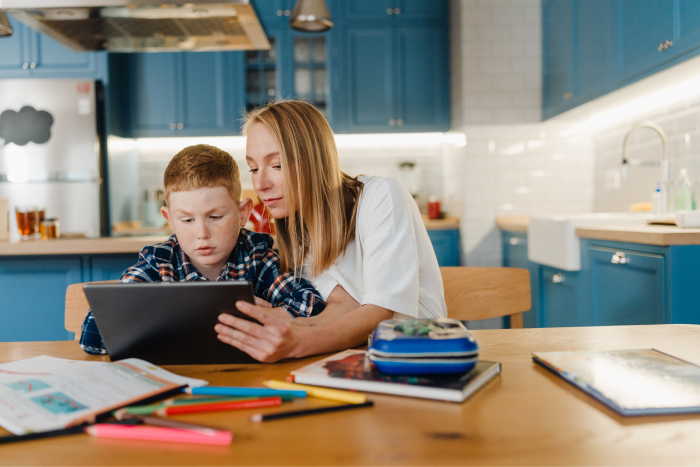 How to make starting school easier for a child?
The vacation season often means a lack of rigor and routine, so to avoid sudden changes that don't serve your child, it's a good idea to gradually restore regularity to the day a few weeks before the school year begins. This means going to bed at a consistent time, as well as arranging regular meals and activity times. We can slowly prepare the child for starting school by checking the program for the new school year. This will allow us to catch topics of interest to the child that will be covered in the next grade. Shaping a positive attitude toward learning is of great importance, and this can also be done by supporting the child's passions and interests. Going back to school is also an opportunity to develop social skills, so it is worth talking to your child about communication, cooperation with peers and dealing with conflicts that arise.Returning to school will also be easier if you provide your child with a balance between study and leisure time. Your child should be encouraged to participate in extracurricular activities, but rest and play are equally important.